Concrete example of observations and datasets are as follows.
Observation
Observation value, dimensions, etc. are defined for each observation. Additional attributes are also defined.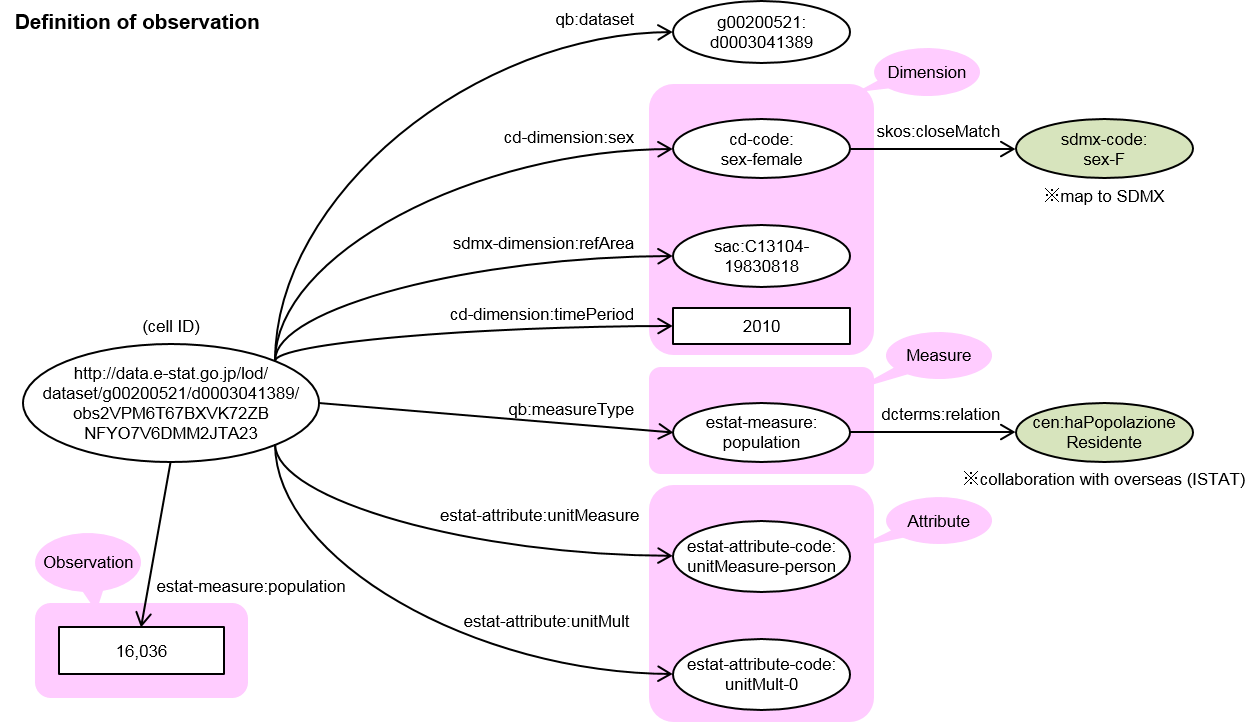 In case figure in small area or grid square is too small, the figure is concealed and added into the figure of neighboring area. Concealment information is defined in observations.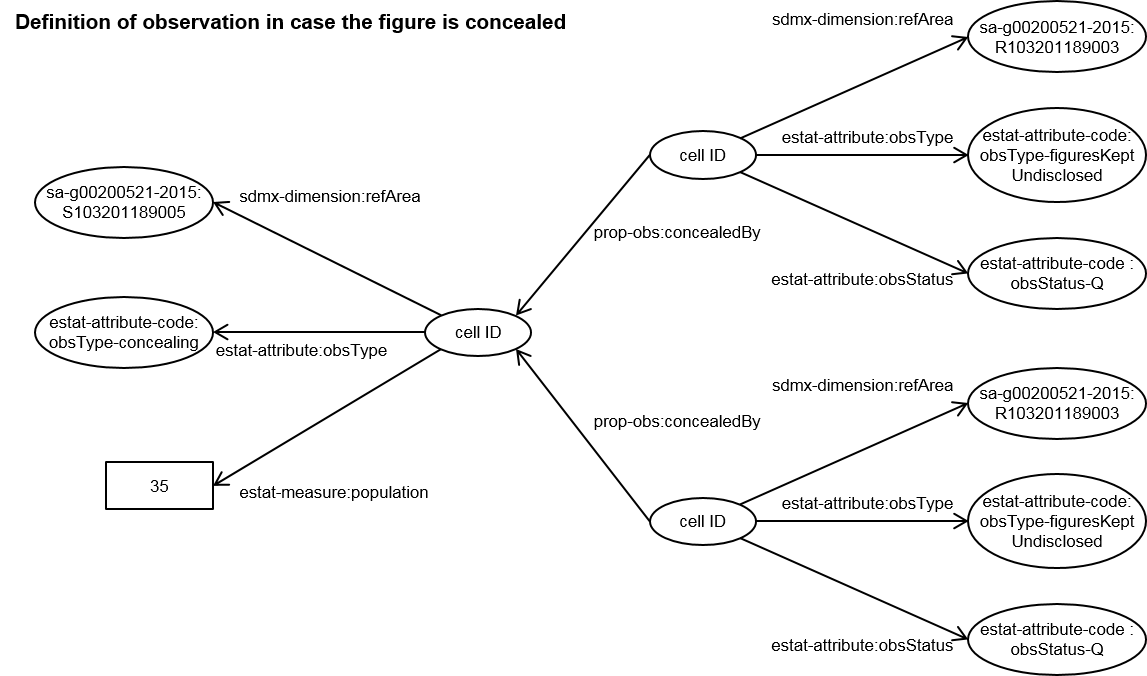 Dataset
Contents of statistical table are defined for each dataset.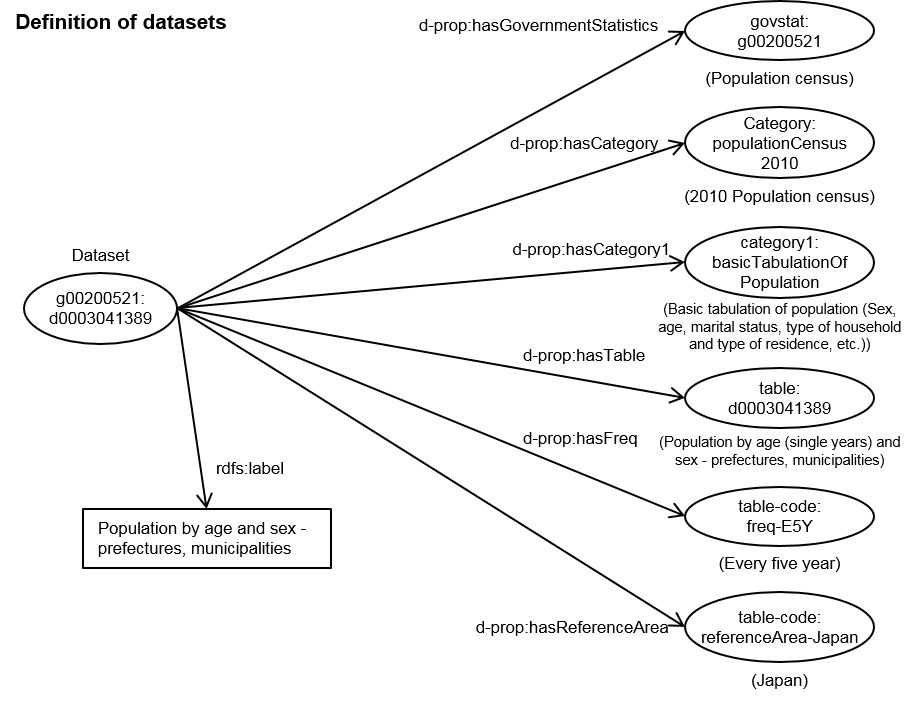 Contents of statistical table have government statistics, categories, etc. and are defined with hierarchy.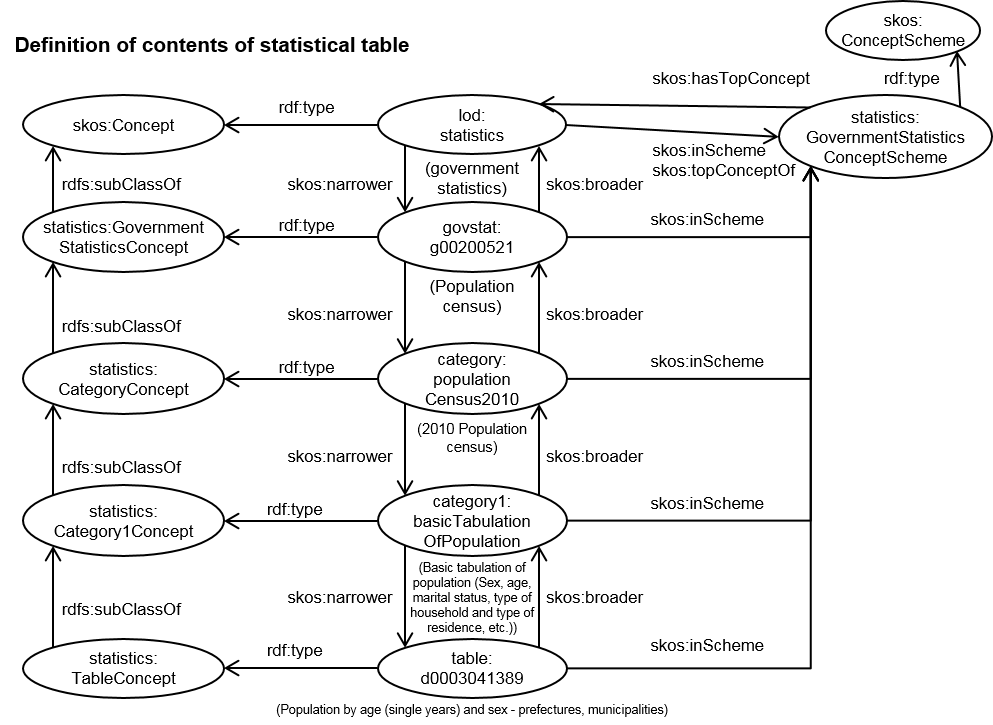 In each dataset, "fields of statistics" in e-Stat is defined as theme.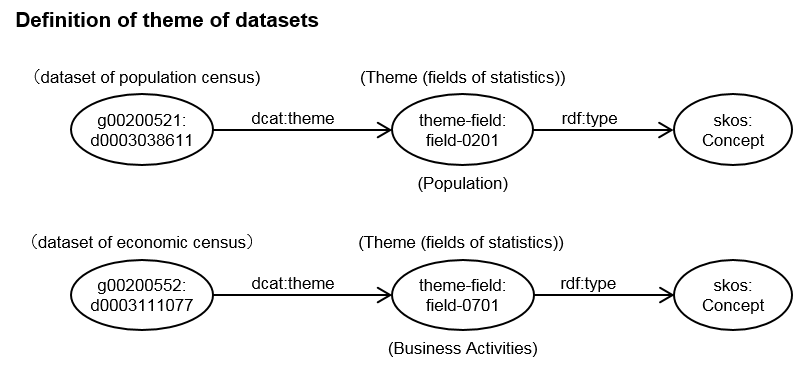 Theme (statistical field) has two layers.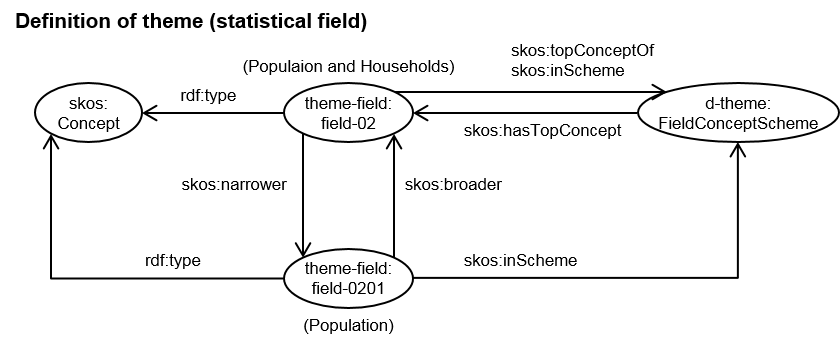 As values of dimension which each dataset can have vary by dataset, the values are defined in dataset structure definition as code list.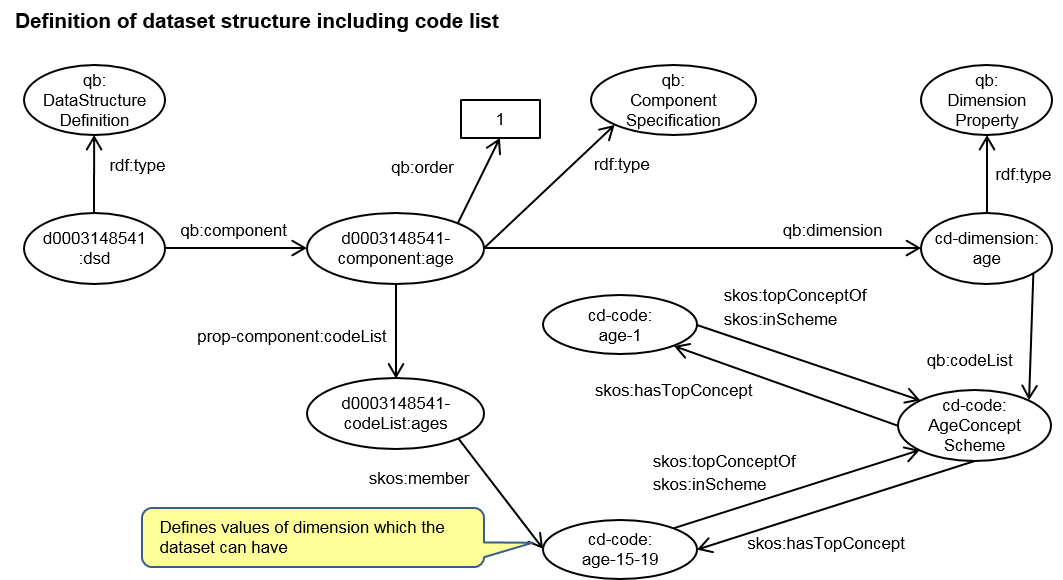 Prefix
| prefix | URI |
| --- | --- |
| rdfs | http://www.w3.org/2000/01/rdf-schema# |
| rdf | http://www.w3.org/1999/02/22-rdf-syntax-ns# |
| dcat | http://www.w3.org/ns/dcat# |
| skos | http://www.w3.org/2004/02/skos/core# |
| qb | http://purl.org/linked-data/cube# |
| sdmx-dimension | http://purl.org/linked-data/sdmx/2009/dimension# |
| sdmx-code | http://purl.org/linked-data/sdmx/2009/code# |
| dcterms | http://purl.org/dc/terms/ |
| cen | http://datiopen.istat.it/odi/ontologia/censimento/ |
| lod | http://data.e-stat.go.jp/lod/ |
| statistics | http://data.e-stat.go.jp/lod/statistics/ |
| govstat | http://data.e-stat.go.jp/lod/statistics/governmentStatistics/ |
| category | http://data.e-stat.go.jp/lod/statistics/category/ |
| category1 | http://data.e-stat.go.jp/lod/statistics/category1/ |
| table | http://data.e-stat.go.jp/lod/statistics/table/ |
| table-code | http://data.e-stat.go.jp/lod/ontology/table/code/ |
| d-prop | http://data.e-stat.go.jp/lod/ontology/dataset/property/ |
| d-theme | http://data.e-stat.go.jp/lod/ontology/dataset/theme/ |
| theme-field | http://data.e-stat.go.jp/lod/ontology/dataset/theme/field/ |
| prop-component | http://data.e-stat.go.jp/lod/ontology/property/component/ |
| prop-obs | http://data.e-stat.go.jp/lod/ontology/property/observation/ |
| g00200521 | http://data.e-stat.go.jp/lod/dataset/g00200521/ |
| g00200552 | http://data.e-stat.go.jp/lod/dataset/g00200552/ |
| d0003148541 | http://data.e-stat.go.jp/lod/dataset/g00200521/d0003148541/ |
| estat-measure | http://data.e-stat.go.jp/lod/ontology/measure/ |
| estat-attribute | http://data.e-stat.go.jp/lod/ontology/attribute/ |
| estat-attribute-code | http://data.e-stat.go.jp/lod/ontology/attribute/code/ |
| cd-dimension | http://data.e-stat.go.jp/lod/ontology/crossDomain/dimension/ |
| cd-code | http://data.e-stat.go.jp/lod/ontology/crossDomain/code/ |
| sac | http://data.e-stat.go.jp/lod/sac/ |
| sa-g00200521-2015 | http://data.e-stat.go.jp/lod/smallArea/g00200521/2015/ |